In addition to his work as a teacher of music,  Stuart offers healing and meditative music experiences at Yoga and retreat centers, as well in hospitals and healthcare facilities in the U.S. and abroad.
Stuart has practiced Yoga and meditation for nearly twenty years and has merged his music and meditation paths into a workshop he calls "
Improvisation as a Spirit Path".
 The intention is to offer people, regardless of musical experience,  an opportunity to connect with and liberate the "master musician within".  He has presented this fun and heart opening music playshop for corporate executives,  juvenile offenders and at Yoga centers internationally.  In addition, he has toured to major Yoga festivals with renowned sacred chant musicians David Newman (Durga Das) and Snatam Kaur. 
For over six years Stuart worked as an artist-in-residence
at
Roswell Park Cancer Institute
in Buffalo N.Y. through 
the
 University at Buffalo's Arts in Healthcare Initiative. He offered healing music and songs on his stringed instruments as well as leading guided meditations using the aboriginal didjeridoo and Tibetan singing bowls.  As an artist-in-residence he engaged patients, families and hospital staff in the creative process 
for well being, stress relief, fun and connection, and for emotional release.  
In 2014 he was awarded a grant from the
National Endowment for the Arts
for his work in the healing arts..  During a ten day residency he created a live multi media performance of music that he composed with cancer patients.  The residency program involved several components.  First, patients at Roswell Park were filmed playing freely improvised music facilitated by Stuart.  Next, through interviews and spontaneous poetry the patients shared personal reflections on their healing journey and insights into that which is truly important in life.   The patients' unique perspective on life, love and healing shines through in this powerful work.
Stuart then edited the video and audio into original compositions, designed a lighting and stage show, and performed live music along with the final edits as they were projected onto a large screen.  The final performance was delivered to a standing room only audience at the
University at Buffalo's Center for the Arts Main Stage
.
Because of the 
The Health Insurance Portability and Accountability Act of 1996 (HIPAA)
we are unable to publicly share images of patents and the compositions created with them during Stuart's documented hospital visits.  The privacy of the patents is something that Stuart and the University at Buffalo want to respect.  However, if you are interested in hosting one of Stuart's healing music presentations at your healthcare facility or medical school
please CONTACT STUART by clicking here.
Video samples are available for grant writers only.
Read Stuart's Artist Statement (Click Image Below)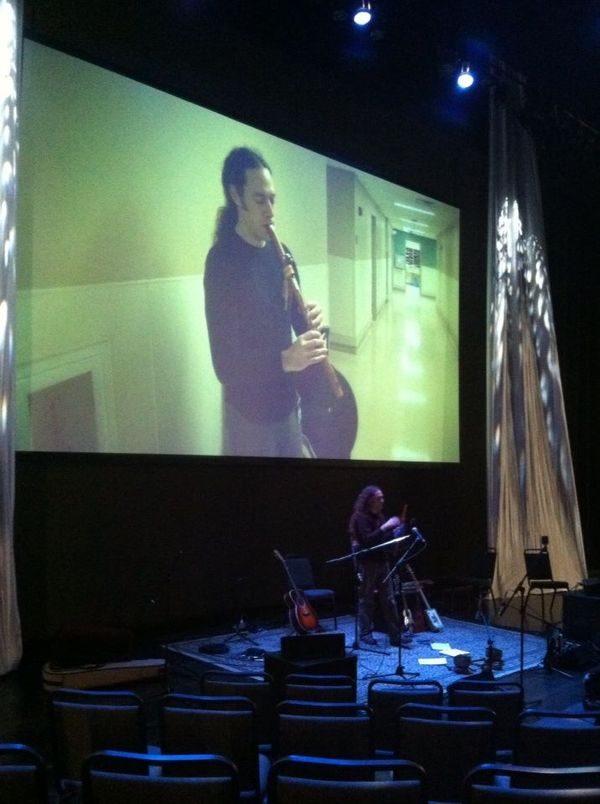 Interested in learning more?